"Buhari Denies Fleeing Daura and Going into Exile, Refuting Recent Claims"
Muhammadu Buhari, the former President of Nigeria, has debunked rumors suggesting that he embarked on exile after the conclusion of his tenure in May. Buhari clarified that such reports are false and baseless.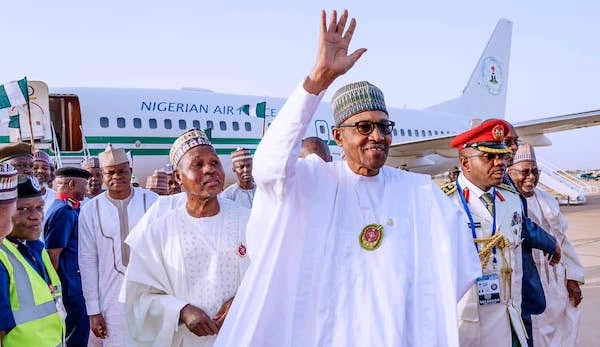 In a statement delivered by his former media aide, Garba Shehu, Buhari emphasized that he has returned to his hometown of Daura in Katsina state and is currently residing there with his family. Shehu dismissed the notion that Buhari had fled the country or gone into exile, stating that it is misleading and lacks any factual basis.
Shehu further stressed the importance for media platforms to verify the information they receive before disseminating it to the public. He urged them to utilize the available tools and resources to ensure the accuracy and reliability of their news reporting.
It should be noted that Buhari recently traveled to London for a brief respite from the large number of visitors who were frequenting his residence in Daura. This trip was merely a temporary break, and he has since returned to his home in Daura.
The clarification from Buhari's camp aims to dispel the rumors and speculations surrounding his whereabouts and intentions. By stating that he is present in his hometown and with his family, Buhari seeks to reassure the public that he has not fled the country or sought refuge in another nation.
It is important to rely on verified information from credible sources when discussing matters related to public figures. Rumors and unfounded claims can create unnecessary confusion and anxiety among the public. In this case, Buhari's statement provides clarity regarding his current location and refutes the allegations of his exile.
As the former President settles into his post-presidential life, it is expected that he will continue to engage in various activities and contribute to the development and progress of Nigeria in his own capacity.